Flying The Frontiers Volume III, A Half Million Hours of Aviation Adventure
This volume captures stories from all sides of the flying field—old stories and new, heroic and imprudent, in peace and in war. These aviators and engineers have taken to the air in fixed- and rotary-wing aircraft, and even in a space shuttle.

Among the people you will meet are wartime flyers, one who flew with the famous Flying Tigers over the Burma Hump, another who spent most of the war in a German POW camp, where he participated in "The Great Escape"; a BC costal pilot with a hemorraging patient aboard, who was forced to seek harbor on the black, choppy waters of an unknown channel; a helicopter pilot who awoke from a nap to discover a polar bear poking its nose into the other seat; a Fort Nelson flyer fighting to preserve his local airport, and the airline he built there, as Transport Canada follows its mandate to sell off its airports; a northern bush pilot and engineer, who has turned his knowledge of aviation into everlasting works of art, which grace all three covers of Flying the Frontiers and two Canadians who embrace space, one as an educator, the other as an astronaut for NASA.
Detselig Enterprises, Calgary, AB, 1999
ISBN 1-55059-176-2
New Suggested List price: $19.95 CDN
Order: through your local book store or contact author at email listed on this website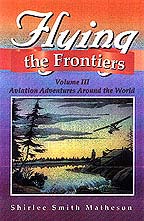 Reviews: "They may not be in the Hall of Fame, but these people made history too!" "This book brings to light many fascinating people with spellbinding stories about flying in the long, and not-so-long-ago past. There's action, there's drama, there's romance, and above all, there's an enduring love of flying that has withstood the test of time. It's a book that will appeal to anyone with even a passing interest in aviation, and help them understand those who had a passionate interest in aviation." Bob Merrick, COPA Flight, p. 23, March/00.
"The great variety of subjects – from fledgling commercial outfits, to aviation art, to the tragic end of a flight to Antarctica – makes this book an important addition to the history of flying . . . Matheson's descriptions of difficult flights, dangerous landings, or simply a love of flying are written with true feeling and understanding for the situations and decisions flyers and engineers had to make." Patricia A. Myers, CBRA (Canadian Book Review Annual) p. 439, 2000 edition.