Amazing Flights and Flyers
Price: $19.95. ISBN 978-1-897181-29-4, Frontenac House Publishers, Calgary

Book launch February 28, 2010 @ Aero Space Museum of Calgary.

"The latest in Shirlee Smith Matheson's popular Canadian aviation stories,
Amazing Flights and Flyers
, is a fascinating collection of adventures ranging from aerial hijackings to secret Nazi weather stations in Labrador, from the missions of the Civil Air Search and Rescue Association to an incredible aerial rescue expedition in the Antarctic. Every story is different, every story is astonishing, and every story is completely true!"

Available at bookstores including AeroWorks c/o Aero Space Museum (email: aeroworks@asmac.ab.ca), or contact distributor: Alpine Book Peddlers, email: info@alpinebookpeddlers.ca.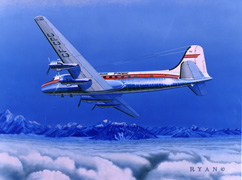 Artist Dan Ryan's painting (used with artist's permission) of this Canadian Pacific Air Lines' DC-4 (CF-CPC) has garnered much admiration in aviation circles. The original hangs in the south terminal of the Vancouver International Airport, and "shows" the airliner, with 37 persons aboard, about to disappear forever in the vicinity of Mount Fairweather near Sitka, Alaska, on July 21, 1951. Its whereabouts remains a major Canadian mystery, and is the subject of one of the stories contained in
Amazing Flights and Flyers
, titled "The Unfair Weather of Mount Fairweather."