Jailbird Kid

Angela Wroboski has recently moved with her mother, Connie, from their small hometown into the city to rid them of a dark past. Now Angela must deal with the fact that her home will be anything but "normal." Her dad, the infamous Nick "The Weasel" Wroboski, has served three jail terms for various crimes, including robbery, during her lifetime, and on June 5, Angela's fifteenth birthday, he's released from a two-year sentence in Fort Gavin Prison.

Arriving home with an attitude and attire that's sure to mess up her friendships and future, The Weasel tries in his own way to prove that this time he's going straight. But the influence of the old gang, led by notorious Uncle Al who's now operating an enigmatic "business" that's more than a little shady, remains a constant threat to Nick's future as a family man. When Angela learns that a crime is being planned that could blow apart her family, she must quickly decide how to intervene without breaking her father's code to "never discuss family business outside the home."

Dundurn Press
ISBN-10: 1554887046, ISBN-13: 9781554887040
List price: $ 12.99 CDN
To order: contact publisher or author at email listed on this website
Reviews
"I found myself rooting for Angela as I turned the pages. A touching story and a good read for ages nine to twelve."
— Barbra Hesson, Calgary Herald July 4, 2010

  ". . . this is an intriguing tale that will not disappoint. The chapters are short, the vocabulary is simple and the action is ongoing."

— Cindy Matthews, Waterloo Record, August 7, 2010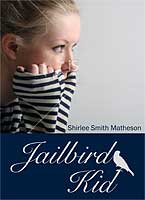 email
: In order to reduce the amount of spam being received, I have removed my contact email from this web site. If you wish to send me an email, please type the following address into your email program.

Copyright 2000-2011
Shirlee Smith Matheson
original page date November 20, 2010. Updated October 8, 2011